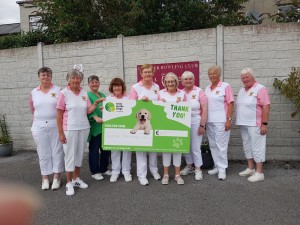 On Wednesday the 19 July, Niamh Wingate (3rd.left) Regional Development Officer Irish Guide Dogs for the Blind, came to Leinster to thank the organizing committee for the successful fund raising event run on their behalf last April.
The Event was held on Sunday 2 April 2023 and raised €1,670 for the Charity. Seventy two playing members participated in competition matches throughout the day. There was also a raffle and some personal donations.
For more information on this Event click Charity Event, 2 April 2023.